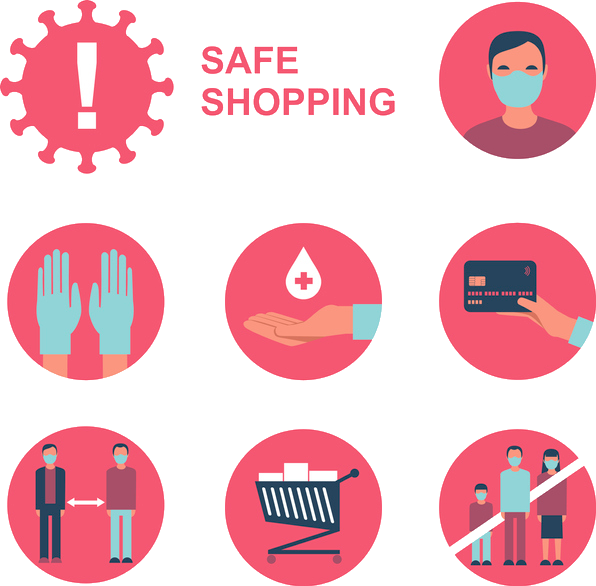 Our Mystery Shoppers are the most important element of our business and your safety is paramount to us. The purpose of this document is to provide advice to Mystery Shoppers on the protocols to consider for face to-face Mystery Shopping / Surveys during the period of lockdown and the return to working.
Important Disclaimer to Mystery Shoppers
MSPA Europe/Africa and Storecheckers are providing these recommendations in good faith based on our broad understanding of the government announcements regarding the Covid-19 pandemic. As such we cannot in any way be held liable for these recommendations.
For what is known to date about Covid-19, there are some demographic characteristics and health conditions that may increase the risk of infection, the severity of symptoms and the fatality rate. It is your responsibility, as a Mystery Shopper, to self-assess your risk factors and to make an informed decision on whether you should accept a mystery shopping assignment. Storecheckers cannot be held liable for your decision to accept an assignment.
Mystery Shoppers must always comply with the specific legislative requirements and government advice, these take precedence over any advice herein.
Our goal with this document is to ensure, whenever possible, the prevention and transmission of Covid-19 infection as a result of Mystery Shopping activity.
Before Accepting an Assignment
Mystery Shoppers should assess the current situation both locally and nationally and see if there are any restrictions in place (ie. when going to any locations, transport etc.)
Mystery Shoppers need to complete a self-assessment of their risk factors and whether it is the right decision to accept the mystery shopping work.
Mystery Shoppers need to complete a self-assessment of their health and must not accept or carry out any assignment if they feel sick or ill, have a cough, fever or any symptom their local health authority identifies as an indicator of Covid-19 infection. In addition to this, Mystery Shoppers must not accept or carry out any face-to-face assignment if they have had contact, in the last 14 days, with any positive case of Covid-19 and/or any person that had symptoms of the infection (even if they have not been tested yet).
Before Starting Fieldwork
Review the questionnaire and safety guidelines provided. Whenever possible, peak hours should be avoided, however please check if there are any restrictions on the time of the visits being made.
If there are any concerns about safety issues during your visits, please contact Storecheckers immediately so that we can notify the client and corrective measures can be implemented without delay.
Be aware of the risks of contamination from surfaces, especially with your mobile phone, reading glasses and sunglasses. Remember to bring a pen in case you need to fill in any forms or make any notes.
Mystery Shoppers MUST wear a face mask during evaluations and use hand sanitiser before and after evaluations (min. 70% alcohol).
During Fieldwork
On the day of the visit, Mystery Shoppers should, if possible, check their body temperature and assess if they have any symptoms of infection.
Mystery Shoppers should not carry out fieldwork if they have had contact, in the last 14 days, with any infected or symptomatic person.
If you have accepted assignments and then come into contact with someone as above, please notify us immediately as it will not be safe to conduct the visits. Please do not take any chances.
Safety is the Absolute Top Priority!
Mystery Shoppers should stop the evaluations at any time if they feel at risk. For example, if a Mystery Shopper enters a store and the employees are not wearing a face mask where it is mandatory, or the amount of customers is clearly above the maximum limit allowed due to the need of physical distancing, the Mystery Shopper should consider the visit as completed and report the results established at that point.
Mystery Shoppers need to be vigilant to minimise the risk of infection:
Whenever possible, avoid public transportation.
Use a face mask.
Use a hand sanitiser as often as possible, before and after your visit.
Maintain social distancing as per current government guidelines.
Whenever possible, lifts (elevators) should be avoided.
When interacting with staff, Mystery Shoppers need to be aware of how their own actions might trigger unsafe behaviour, for example, by offering a handshake.
During the visit, avoid handling products unnecessarily, and avoid touching surfaces as much as possible.
Take special care when visiting toilets, eg. avoid placing bags on the floor, and only touch door knobs with a disposable paper tissue, or sanitise your hands immediately.
Be careful when you touch anything, such as doors, chairs, menus or brochures, touchscreens, telephones, shopping basket or trolleys, etc.
Limit the visit to the necessary amount of time to complete the assessment; contact with employees should be brief and focused.
Avoid using cash. Use a debit or credit card, preferably with contactless payments.
Follow all safety rules operated by the establishment, eg where businesses are checking temperatures or if they are asking customers to sanitise their hands.
Note that the virus may stay for many hours on shopping bags, clothes, shoes, etc., depending on the materials. When arriving back home, Mystery Shoppers are advised to remove shoes before entering the house and to change clothes ASAP.
After Fieldwork
When reporting the results, please detail any issues you may have faced during the visits.
Should you test positive for Covid-19 or develop symptoms of infection within 14 days of the fieldwork, please notify Storecheckers immediately.
Stay Safe!